CODEBLUE High School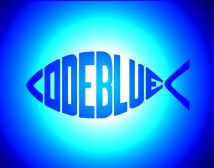 CODE BLUE HIGH SCHOOL GROUP WILL RESUME ON WEDNESDAY, AUG. 28TH WITH "THE STORY" CHURCH WIDE BIBLE STUDY STARTING AT 6PM.
CODEBLUE HIGH SCHOOL youth is facilitated by Craig Van Scoy and Justin Bradford.
Our High School studies are relevant to the challenges these young adults face in today's world.
This group of teens is growing in size and in love with our Lord. The have taken over the front rows of our sanctuary and are becoming a known presence in our church and community.
To name a few,this group has been to the Christ in Youth Conference, camped at Hillsborough River State Park, spent a night sleeping in a box and serving the Lee County homeless, and participated in IMPACT at Florida Christian College since 2009.