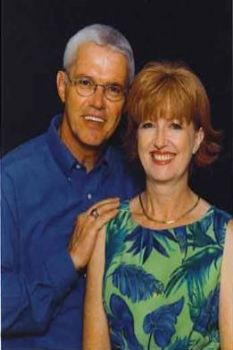 Scott and Rhonda Cain
Scott grew up in the small Southern Illinois town of Cowden. While in high school he met and married his childhood sweetheart Rhonda Cosart on August 30, 1974.
Scott and Rhonda are blessed with 4 children and 1 grandchild. Their son and daughter-in-law, Seth and Jessica (nee: Stephens) and granddaughter Ella Rose. Seth is Senior Pastor at Metro Church in Oviedo, Florida. Younger son Caleb works for LeeStar in the Lee Memorial Health System. . Daughters Hanna and Lea are into soccer, volleyball, while finding time to be home schooled by their mother. Rhonda also heads up "All-Stars for Jesus" for the elementary age children at New Day on Sunday mornings and plays the keyboard for the Praise Band.
Scott received his undergraduate degree from Lincoln Christian College and worked on his graduate degree at Cincinnati Bible Seminary. He is an avid bicycler who completed a Transamerica Bike ride in 2008 and loves working out in the yard.
During his 35 years of ministry, Scott has served four churches: Calumet Street Christian Church in Centralia, Illinois, First Christian Church of Seminole, Florida, Eau Gallie Christian Church in Melbourne, Fl, where Scott completed a successful 20 year ministry, and New Day Christian Church beginning February of 2006.
Scott has served in various leadership capacities for the state conventions, and conferences around the country and, along the way, served as a trustee, and President of Lake Aurora Christian Assembly located in Lake Wales Florida. He also has written articles for the Christian Standard.
Scott loves people and he loves to preach, and when asked about the ministry at New Day Christian Church he responds by saying, "New Day Christian Church is the perfect church for those who aren't. That's why I'm here."